Golf & Batting Cage Index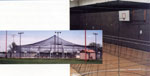 Golf Practice Cages
Our golf practice cages are great for home, pro shops, club designers, schools, and training facilities. They feature high quality, durable construction to stand up to outdoor use and a clean, professional look suitable for indoors.
Standard golf practice cage netting, 10'x10'x10', with baffle
New! Aluminum tube frame, fits our standard cage netting
Call or email us for a custom quote and samples of our netting.
800-426-8860 or 360-734-3336
Monday - Friday, 8am to 5pm Pacific Time